The COVID-19 pandemic has brought about tremendous changes to all industries, there is a huge need for you and your organization to up your game. Bespoke training is one of the major interventions your company needs to plug and play to achieve your revenue target for the year.
In this article, we will explain the meaning of bespoke training and what to expect, most importantly, if you are looking for a bespoke training company in Lagos, Nigeria.
What Is Bespoke Training?
Bespoke training is customized training designed to meet an organization or team's skills and capability deficiencies. This training is a valuable resource for organizations and their employees because the training is designed to fit the organization's structure, requirements, and overall objective.
Bespoke training and its modules are tailored to fit the gaps that organizations are willing to address. Its modules can cover mindset, culture, emotional and functional skills development and improvement (NB: This is how SalesRuby Bespoke training is structured).
It could be conducted in-house or you can have external trainers, who specialize in training organizations and businesses like yours, develop and administer these modules after an extensive review and discussion with you and your team.
Are you looking for a company to train your team within and outside Lagos? Speak with a SalesRuby Consultant.
Advantages Of Bespoke Training
The advantages of training to an organization and its employees' performance are enormous and cannot be over-emphasized. SalesRuby bespoke training is structured with the following advantages: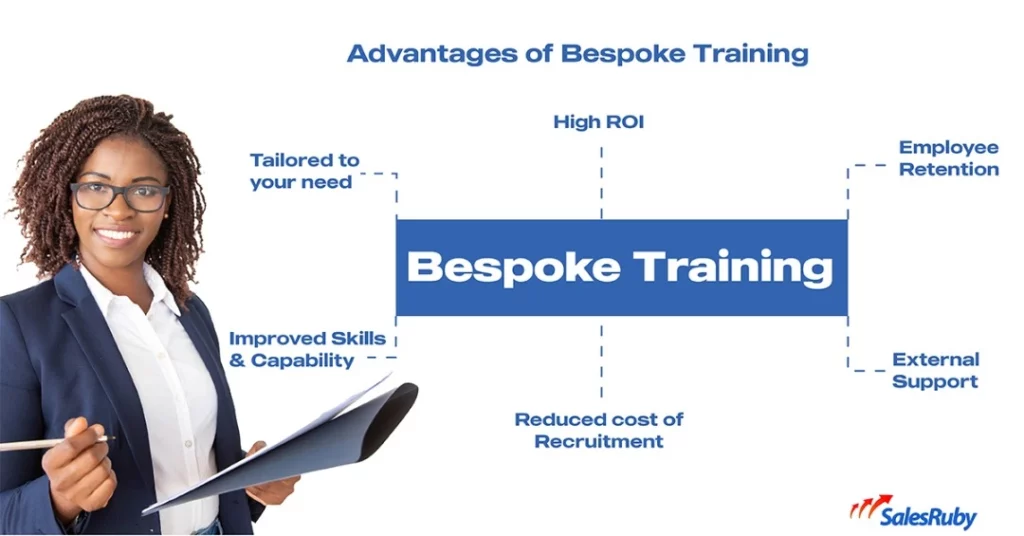 1. Tailored To Your Needs
Unlike courses, bespoke training is designed with a problem and an organization in mind. So the contents are put together to address the identified challenges and are very relevant to the industry. That is to say, bespoke training is not one size fits all.
For instance: SalesRuby Bespoke training is designed to help companies improve their revenue. To achieve this, our training involves more than role-playing, but also participants receive first-hand feedback from experts.
2. Return On Investment
Trainings yield high ROI for companies because the participant are now more energized and equipped to execute their task.
Recommended article:Reasons Why Your Sales Team Keep Underperforming
3. Employees Retention
Training and retraining staff increases the rate of employee retention. For 87% of HR managers, employee retention is a top priority. If you are in this category, it is crucial to retain and help employees upskill rather than recruiting new people who may not fit into your culture easily.
4. Cost Of Recruitment
As stated before, customized training helps businesses retain talent. On the other hand, it helps in saving costs for organizations and reducing recruitment risk.
5. Skills And Capabilities
Change is constant in life. As an individual or team, there is a great need to continually make changes. The bespoke training structure makes it almost impossible to have a zero outcome from the participants. 74% of workers are willing to be re-trained to improve their relevance in their workplace (Lorman).
6. External Support:
Training is a great way to help out any part of your team that might be struggling. And having an external individual or company as the trainer may be an added advantage because these trainers (like faculty members of SalesRuby) are experts in their various fields and have vast experience in multiple industries.
External trainers bring different perspectives, ideas, and approaches to overcoming your organization's and individual challenges.
Recommended article: How To Shorten Your Sales Cycle?
Bespoke Training: Why SalesRuby Bespoke Training
Having seen the advantages of bespoke training. It is right to state that choosing the right company to train your team or organization can be challenging. Finding and settling on a trainer who understands not only your business and its challenges but also the market and the type of customers you serve, can be difficult.
SalesRuby is a training and management company, and the best Bespoke Training company in Lagos Nigeria. We have trained a number of organizations across various verticals:
Retail and FMCG Sales Training
SaaS and Tech Sales Training
Finance Services Sales Training
Medical and Pharmaceutical Sales Training etc.
Our training modules and content are prepared by our faculty members with over two decades of experience in selling across a wide range of industries and are personalized to your organizational needs.
We evaluate the performance of each team member before and after the training sessions to make sure you get the most out of the training.
Reach out to one of our sales consultants today to get aligned on how we can help your organization and business achieve its revenue goals.