What is sales training?
Sales training is a deliberate process of equipping salespeople with skills, knowledge, tools, and attributes to drive revenue growth through a change in behaviour and strategy. 
Effective sales training should be holistic, detailed, and aimed at providing the salesperson with the needed skills to perform their sales better, irrespective of the challenges that could arise.
Sales training doesn't stop at the onboarding stage but is an ongoing process. Salespeople who are trained very often perform better than those who are not trained very often. Each year, companies spend about $20 billion on sales training (ATD, 2015).
"Sales Training Is The Intentional And Sound Application Of Ordinary Sense To The Problem Of Helping The Sales Personnel To Make The Most Of Their Talents."
Importance of sales training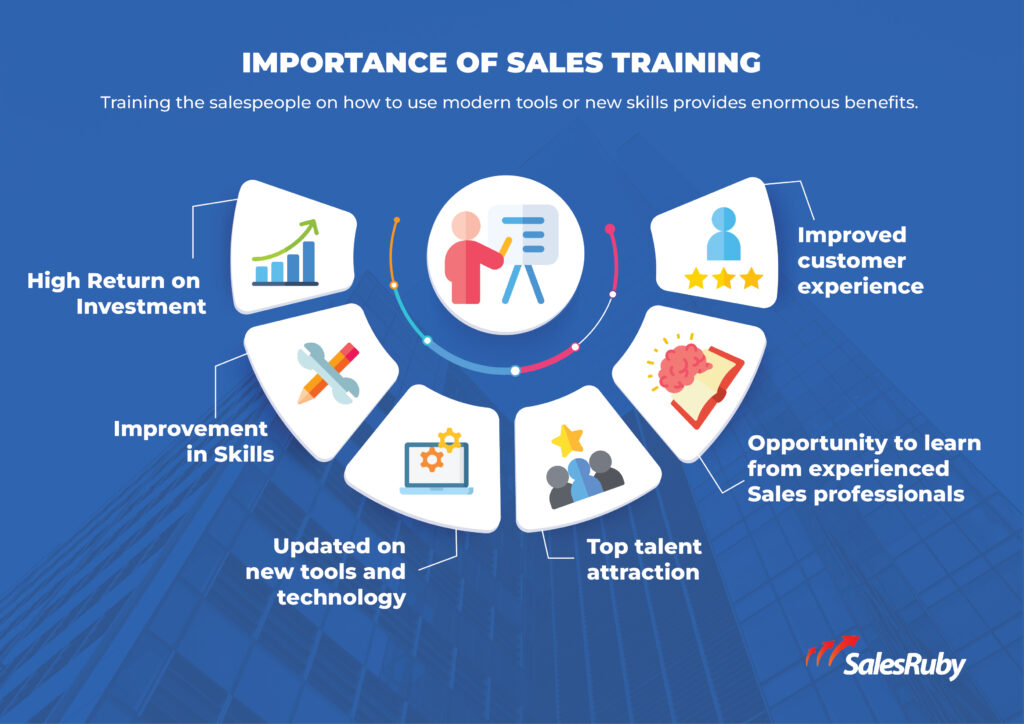 Training your salespeople on how to use modern tools or new skills provides enormous benefits:
High Return on Investment: When salespeople are trained and retrained, it in turn, improves their ability to drive revenue growth for their companies. According to Taskdrive (an LTV plus company), the ROI for sales training stands at 353%. Roughly speaking, for every dollar a company spends on training, it receives about $4.53 back.
Improvement in Skills: This is the most important reason for sales training because honing the right skills for a salesman will help to reduce the time spent on unnecessary activities and focus on the most important activities, which will result in revenue growth for the company. Depending on the needs of the individual or the team, the skills to be trained on could be communication, customer relationship, deal closing, objection handling and the use of sales process automation tools.
Update on new tools and technology: Going by the increasing landscape of sales and the adoption of various sales technology tools in modern-day selling, frequent training helps salespeople and the respective company remain competitive and updated.
Top talent attraction: Will training your workforce attract new talent? We are confident that constant training attracts top talent because people want to work in innovative companies with a strong dedication to the growth of their workforce, 54% of employers provide additional training and development specifically to overcome talent shortages.
Opportunity to learn from experienced Sales professionals: Your sales team will be better at figuring out and dealing with objections if they are taught by people who have been in the business a long time.
Improved customer experience: Selling is not complete without a customer, someone at the receiving end of the services or products. Success is not dependent on their ability to pitch their product or services, but on building relationships. 94% of salespeople confirm that building customer relationships is more important than selling in the first meeting. SalesRuby 2021

Types of sales training
Inside sales training is sales training conducted over the phone, email, and video conference platforms rather than in-person with the trainee. This training involves a demonstration of how to execute an effective cold call, prospecting and handling objections in sales.
Field sales training refers to training done in the field; usually, sales representatives watch as sales managers, superiors, or trainers sell to prospective clients at trade fairs, conferences, and on-premises office meetings.
How to choose the right sales training for your sales team
More Sales Means A Bigger Bottom Line. Yet, More Than 60% Of Salespeople Say Selling Is Harder Or Much Harder Today Than It Was Five Years Ago.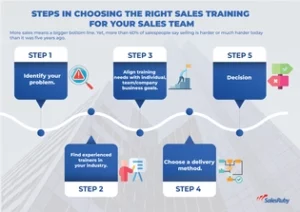 Five steps in choosing sales training for your sales team:
Identify your problem.

Find experienced sales trainers in your industry.

Align training needs with individual, team/company business goals.

Choose a delivery method.

Decision.
Access your sales team's performance, download sales team evaluation template.
List of sales training you can choose from.
There are various sales training courses to choose from, depending on the expected outcome and level of experience. Whether you want to train yourself (individual), your team, or your company.
Here is a list to choose from:
The Certified Sales and Revenue Manager Course
SaaS and Tech Leadership course.
Undecided about the right training for you or your sales team? Speak with one of our sales consultants.
How is a sales training program designed?
Sales training is designed based on the desired outcome of the company or individual. It should be personalized to the problem intended to be resolved and modalities for the measurement of the effectiveness of the training should be set out during the identification stage or the discovery call
For instance, the training of the FMCG salespersons and their teams is different from that of training for B2B SaaS And Tech sales teams. Not only do they come from different industries, but they also sell to different individuals and personalities, and their sell processes, and decision-making process differs.
So it's vital to train each individual and team based on the industry, vertical customers, and peculiarities of the environment they sell in.
Why is your sales training program not effective?
1. When the training is not personalized
When it is generic, it is bound to yield no good enough result. Though there may be instant gain, to get the best out of any sales training, it needs to be unique and personalised to the individual, team and company's needs.
2. Unclear problem identification
Identifying the need for training goes beyond just an organization wanting to improve its revenue. It is essential to clearly identify where the sales representative is struggling. A sales team that returns low revenue might have the ability to close deals, but they do not know how to build relationships or develop a market.
3. A person's natural tendency to forget the skills and strategies they've learned
 According to the forgetting curve, we tend to forget things as the days pass by. Your salespeople are not different. They too forget things they have learnt for a number of reasons.
4. Training is not practical
 To ensure an easier understanding of sales training, it's crucial to make the training practical. Role-playing with the trainee and trainer is helpful. The salespersons are expected to respond the way their clients do and observe as the trainer responds.
5. Inadequate follow-up
 Without follow-up, salespeople will lose 80-90% of what they learnt in training within a month – Sales Alliance 2014. With constant follow-up, the tendency to forget new skills and strategies learnt and the lackadaisical attitude of salespeople could be kept in check. And the team can be retrained on a monthly, quarterly, or annual basis to see how well the training worked.
6. Failure to align training with a business goal
Sales training should be aligned with strategic business goals is so critical. Employees are better able to grasp how they directly contribute to the attainment of corporate objectives when training programs are conceived and developed with business strategy in mind.
7. Lack of engagement
Sometimes, salespeople are not fully immersed in the training. They do not engage. However, there is a solution to overcome this difficulty: maintain employees at the center of your training.
8. Collaborative Learning
Inviting employees into the process of identifying Learning Needs, creating courses, and providing feedback—is the key to employee training engagement.
9. Poor involvement of management in the training
Employees are a company's most valuable resource. As a result, it is critical for businesses to invest in their employees' development and overall experience. Employers frequently make the error of assuming that onboarding new workers are sufficient to keep them productive. Because onboarding is insufficient, people are eventually forced to change jobs. To keep staff motivated and productive, you need effective and consistent training.
Ready to revamp your sales team?
Train your sales team to crunch their numbers by enrolling them in the SalesRuby Academy program. These training programs equip your sales team with the skills and expertise needed for modern-day selling. Speak to a SalesRuby consultant.